Act Premium Desktop: Traditional Installed Software
Act Premium Software v25 | Physically Installed Desktop Software
Act Premium software is fundamentally the same as Act Pro software.  Under the hood, it is designed to do more.  Act Pro is the economy car and Act Premium is the sports car.  It is software with benefits.  It gives you options to expand and to connect with other software via an API and tools unique to this version of Act.
Your Act Software Choices
Act Premium Cloud $360 Annual Subscription
Act Premium Desktop $450 Annual Subscription| $380 First Year |

Ask About Upgrade Pricing



Act Pro Desktop Software $450 Perpetual License | one-time purchase

Act Desktop Benefits
One of the things that I have always found rather interesting about Act software users is that they do not get caught up in the bells and whistles of software.  They are rather matter-of-fact individuals.
Act premium is offered as a yearly subscription and that subscription comes with some benefits that Act Pro users will not receive.
Here are some of the things that you get as an Act Software subscriber:
Act software upgrades and updates
Act Marketing Automation: Act's email marketing tool
Act Companion: a mobile app called (Handheld Contact is better)
a browse only option (great for reducing the cost of sharing Act)
Act Connect: API with the ability to connect to other software
I Hate the Idea of a Yearly Subscription
At this point, I want to talk about the elephant in the room for long time Act users.  For years Act software users bought Act once and used it for many years taking their yearly cost down to virtually nothing.  The thought of paying the annual subscription makes some of them crazy with the thought of paying for software every year.  Lets face it, software companies are in the business to make money.  The best way for them to keep their business profitable and up-to-date, and not just the makers of Act, and to be able to update their software to the needs of their customers is to offer an annual subscription with recurring revenue.
Swiftpage, the makers of Act are no different.
We are all in business to make a living.  As an Act Software Certified Consultant, I feel responsibility to educate you about the potential and possibilities of Act today.  What can you do with it?  What are you not doing that you should consider doing?  I still remember the day when I learned I could send out faxes using Act software and another tool called WinFax.  It was an amazing revelation. Software improves every year.
Look Is Your Most Valuable Employee
The bottom line is this, in my opinion, if you spend money on an Act subscription let us make sure that it pays for itself many times over.  If you hire an employee, they need to pay for themselves many times over.
Act is no different and cheap in comparison to an employee.  With Act you can:
Manage contacts: customers and prospects
Track emails
Do a Mail-merge
Keep a calendar
Schedule calls, meetings and to-dos
Keep notes and histories
Run your life
Send Newsletters
Send a Marketing Email Campaign
Put your data on a mobile device
I think Act is your most valuable employee and it works cheap.  Just try getting by without it for the next 7 days.
Expand your horizons: get an Act software subscription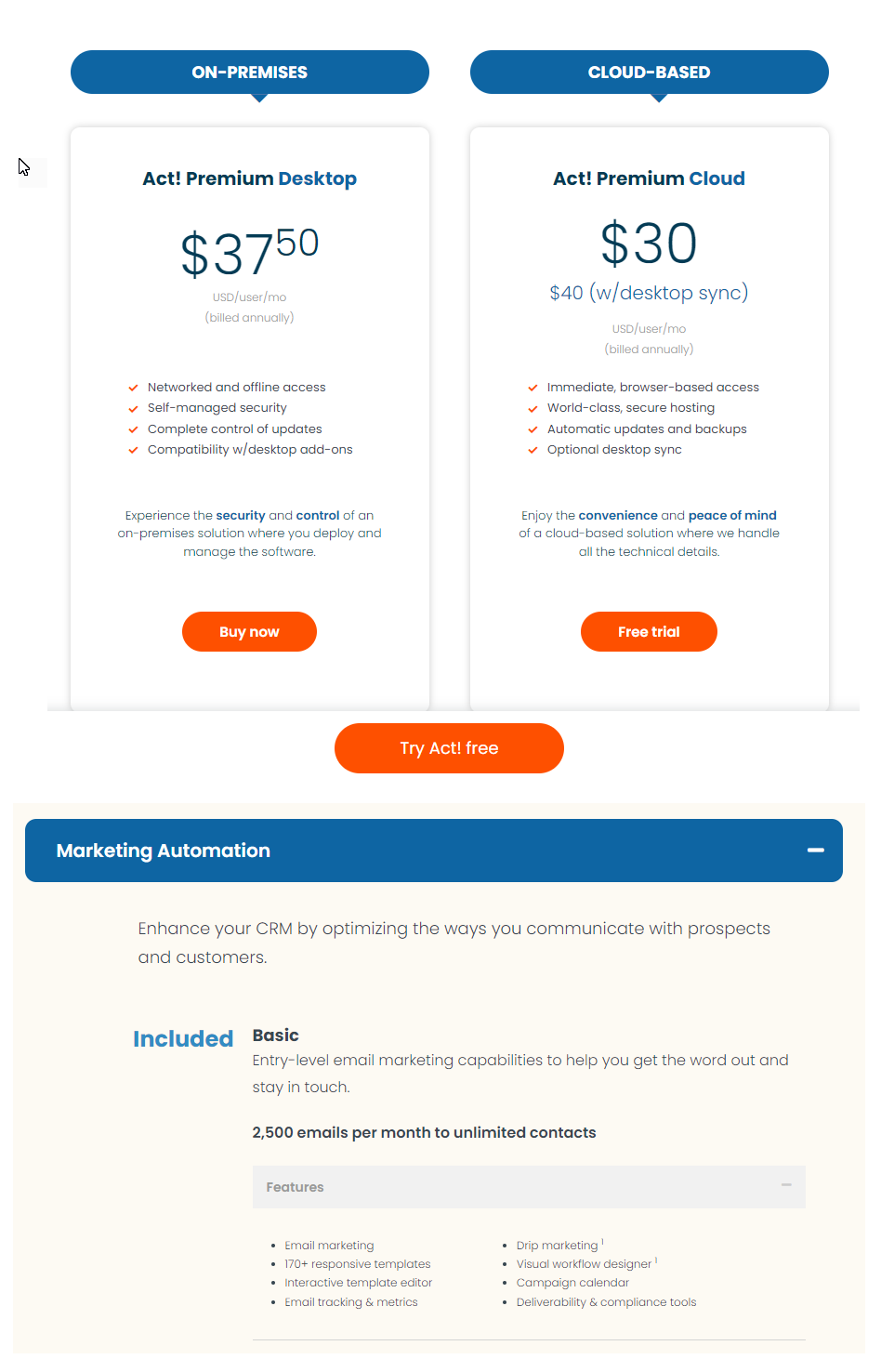 Video: Learn More About Act Pricing Options