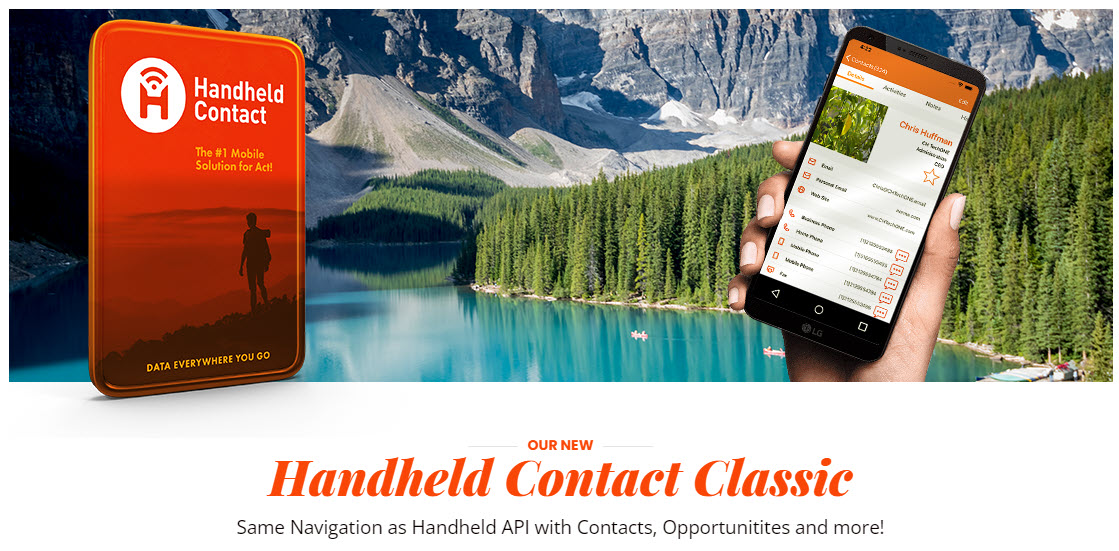 Act CRM Mobile App Options
Free Act Companion: Swiftpage Act Mobile App for Subscribers
Act Subscribers, those that pay a yearly subscription for Act desktop software or cloud options have an app they can use called Act Companion.  The way you login to the app can vary slightly based on your setup.  Act Premium and Act CRM Classic users should consult with me directly so I can help you determine how to login to Act Companion.  I use Act CRM Classic and I'm able to login using my username and password.
Handheld Contact API (Green)
www.HandheldContact.com  | $48 to $84 per year | Free Trial
The most popular mobile client for Act! now syncs directly with your Act! database for faster, more frequent updates of unlimited contacts, opportunities, and activities, with support for more notes & histories than ever before.
Manage your Act! data from Handheld Contact without the need for an Internet connection.
Syncs securely with 128 bit encryption
All data available offline on your device for faster more reliable access from anywhere
Syncs all your activity types, and supports each of their custom outcomes, as well
Automatic syncing
Easy field mapping from your device
Easy setup with no Windows software to install or configure
Act Pro: Handheld Contact Classic (Orange): What is Handheld Contact Classic?
Handheld Contact is simply the best service enabling two-way, wireless synchronization between your PDA and your Act! CRM software. Track and manage complete prospect and customer information and more. Improve your productivity and mobilize your customer management with Handheld Contact.  Whether you use a Blackberry, iPhone, Android Phone, or even an iPad or Android Tablet, Handheld Contact puts all your vital contact, calendar, notes, and history at your fingertips — it's like taking your office with you.
The magic behind the Handheld Contact syncing is that all communication between your computer and your devices flows through our secure server (mware) which ensures the highest level of accuracy, reliability, and security. Both sides communicate with the same server, and the changes are always reconciled properly to update your CRM data in the appropriate direction. With each update, that information is then removed from our server until the next sync.
They also offer a Mac version of Handheld Contact that I have not personally used.
Video: Act Companion Setup & Configuration Settings