Act CRM software is changing for the better.  If you are looking for a contact manager database this year you have options from Swiftpage Act.
As a long time Act teacher, trainer and consultant, I find the options this year very exciting for Act software users.  
At the end of June 2020, Swiftpage the makers of Act software announced they would no longer sell Act Pro.  Act Pro software is desktop software with a one-time purchase price.  Long time Act users that previously purchased Sage Act Software Symantec Act Software tended to upgrade every 3 to 6 years.
For many Act Pro users, upgrading to a version of Act software that is an annual subscription is too much to take.  They do not want to pay yearly for software they are used to buying once.  As much as I can appreciate the way they think about Act, I also feel that as business owners if you cannot leverage the software to make way more money for yourself that its yearly subscription price, you are leaving some of the assets of the software on the table.  My opinion.  
For the record, I am a partner at a firm that purchased copies of Act Pro version 22 and you can still purchase Act Pro while supplies last for approximately $350.when you purchase Act Pro you received no Act CRM support.  My standard consulting rate for Act software support is between $125 and $175 per hour.
Act CRM Pricing
Act software costs depend on a few different factors.  Do you want your Act database on your desktop as a software you download or are you comfortable with using Act cloud software? Using Act CRM online allows you to access all of your data from any computer that has Internet access.  There are fewer set up issues that include configuring your Act CRM system.
As an Act software subscriber you can enjoy the best of both worlds: Act CRM in the cloud and Act CRM on your desktop.
Many companies use Act database software by installing their database on a server in their office.  Typically, you have to pay an IT company to install Act on your server, install it on multiple workstations, configure it, set preferences, and get it working with Microsoft Outlook.  Historically, Windows updates can wreak havoc on certain computer settings and Act contact software is not immune to that possibility.
To lower your Act software cost you can have us host your Act CRM database in our cloud environment.  Once your Act database is uploaded to our professionally managed Act software servers, we turned around and said each Act user I unique type of database called a remote database.  The remote database or RDB, communicates with our server so changes made on your desktop software of Act will synchronize back to our Act cloud server.  
Imagine you have 10 users that all use Act.  All of their data will synchronize amongst those 10 computers.  In addition to that, we recognize that you might have more than one computer.  For example, a laptop computer in a desktop computer that you would like to have your Act database software on.  No problem.  Each Act software user is entitled to two remote databases.
The argument for an Act software annual subscription
Act contact management software has been around for a very long time; more than 20 years.  As you do in Act CRM review I would urge you to consider the following:
Swiftpage Act is a software company whose goal is to make money so they can continue to employ their staff and improve the software.  When you purchase software once every five years that does not occur.  Your continued support helps Act Marketing Automation.

Act Marketing Automation is a phenomenal tool that is only available to subscribers.  You can use it for email marketing, intelligence gathering, sales leads, salesperson management and customer interaction.

Having a connection to your Act database in the cloud opens up a world of possibilities to connect Act CRM to other software.

API connections to CRM software improve the ability of Act to communicate with other software.

A subscription affords you a certain level of Act technical support for free

A subscription gives you access to tools for your smartphone and mobile device.  Some of those tools are free

A subscription makes it easy to upgrade and extend the value of your software
Act SaaS CRM Software Cost
In October 2020, Act introduced a new SaaS product (software as a service) with a monthly option and an annual option with three different levels: Act CRM Essentials, Act CRM Standard and Act CRM Expert.  Essentials is $180 per year, standard is $360 per year and expert is $540 per year.  I recommend you start with their 14 day free trial and if you are still uncertain the best program then pay monthly until you figure it out.  Prices are 22, 40 and $55 respectively.
Act sass CRM is completely web based.  You can use it on multiple devices in via multiple browsers.  It is easy to add and subtract users and you can grow into it.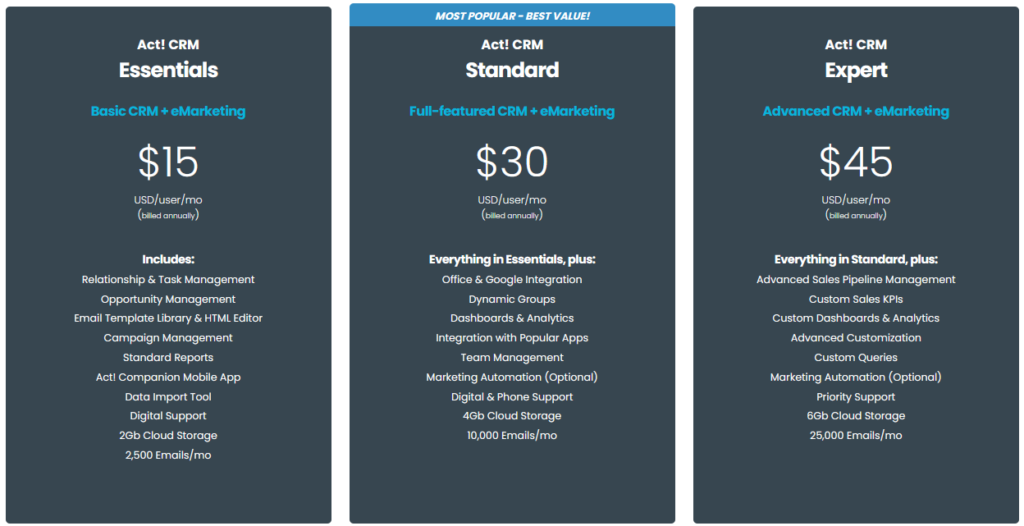 Act CRM installed or on premise
If you would like to subscribe to Act and install it on your computer (also called on premise) it is $330 per year per user.
If you would like to also have Act on multiple computers, such as a desktop and laptop computer, and keep the data synchronized you should update your subscription to include hosting.  I offer hosting the Keystroke.  Hosting is $120 per year per user.
The distinct advantage of Act CRM hosting and synchronization
When we Act is your professionally managed server we are responsible for helping you and sure a connection from our server to your computer and Act remote database.  It is a lot less expensive to pay $120 per year vs. purchasing a server and then having to configure everything to work together.
CRM Reality Check
As I sit here writing this I realize that the prices I have mentioned could change.  I also understand that people that use Act might need Act technical support and help.  I can help you there.  The reality is when you are ready to purchase Act software you should reach out to be to talk about your needs and your approach to purchasing software.
At the end of the day, you and I and the makers of Act (Swiftpage) all benefit from you having a fantastic experience with the software.  Let us make sure that happens.